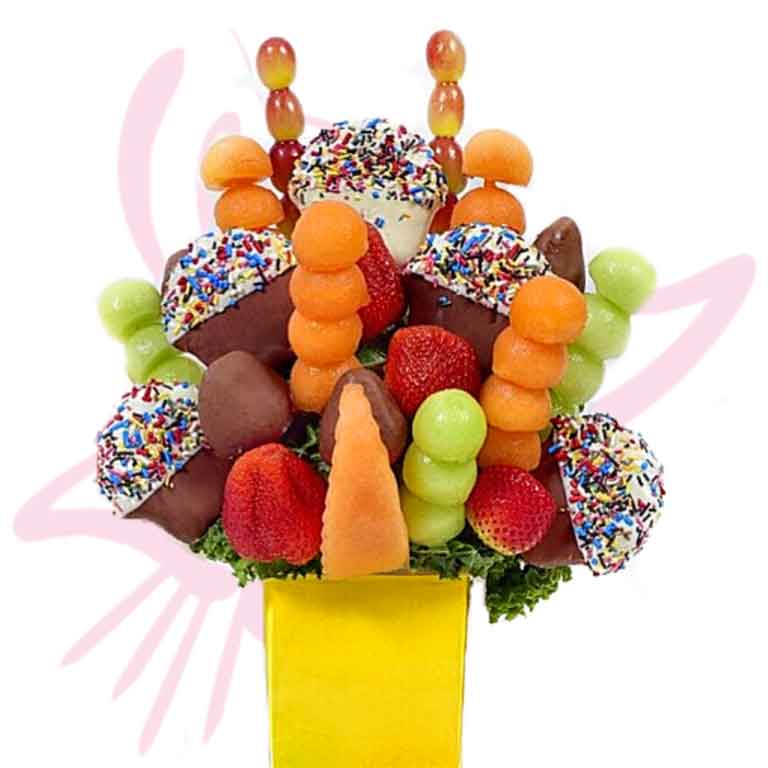 Rainbow Polka Bouquet
Product Description :
Discover the art of gifting with our handcrafted Fruit Bouquets – a perfect blend of creativity and taste. Fruitilicious presents an array of delectable Fruit Arrangements that are not only visually appealing but also sure to bring a smile to your loved ones. Whether it's a special occasion or a simple gathering with family and friends, our wide selection caters to all. With options that include the goodness of fruits and even Belgian chocolate, our Edible Arrangements are designed to make every moment special.
Container may vary as per availability.
Dark Belgian Chocolate Dipped Strawberries
Dark Belgian Chocolate Dipped Pineapple
Strawberries
Cantaloupe
Strawberries
Honeydew
Fruitilicious® products are made from fresh fruit with noadded preservatives. Our fruit bouquets are prepared at the peak of freshness. We recommend that you enjoy the arrangement right away. If that's not possible, you should keep the original packaging refrigerate immediately once received.
Once it has been removed from the original wrapping, you should remove the fruit from the skewers, store it in an airtight container and refrigerate immediately to ensure quality.